BOTOX / XEOMIN / DYSPORT
Botox targets over-activity in facial muscles that cause dynamic wrinkling especially in between the eye and forehead. It works by actually reducing the contractions of the muscles that cause those persistent frown lines that have developed over time.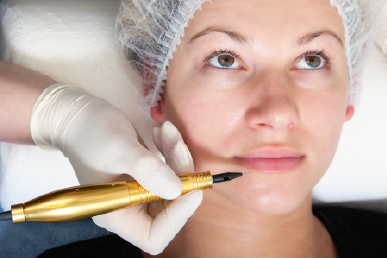 Botox is INACTIVATED Botulinum toxin that temporarily binds to muscles and decreases their contraction. Initial improvement and reduction in contraction can take up to 7-10 days and may last up to 4-6 months, although results may vary. In clinical trials, nearly 90% of men and women surveyed rated the improvement in the appearance of frown lines between their brows as moderate to better 1 month after treatment. The injections take approximately 10-15 minutes and there is virtually no downtime.
After the procedure is done initially you may feel some mild pressure or headache. Gradually, the muscles injected will decrease their contractility. Botox will not radically change your facial appearance. You can still frown or look surprised—without the wrinkles and creases between your brows. There is no numbness and sensation is fully intact. For Botox injections, we use very fine needles as well as anesthetic cream and ice to keep the patient as pain free and comfortable as possible. Pain is minimal. And again all procedures are performed by Board Certified Physicians.
Juvederm / RESTYLANE / BELOTERO
JUVÉDERM® XC is the smooth gel filler that your doctor uses to instantly smooth away wrinkles around your mouth and nose. With just one treatment, you'll get smooth and natural-looking results that last up to a year.  JUVÉDERM® XC is manufactured using HYLACROSS™ technology, creating a smooth-consistency gel. It is infused with lidocaine to improve comfort during treatment. With JUVÉDERM® XC you get the smooth results you expect, with the improved comfort you want. Everyone will notice, but no one will know.
Where Does It Work?
Everyone's skin ages differently and JUVÉDERM® XC may be used to rejuvenate multiple problem areas.* From smile lines to vertical lip lines, you can smooth away unwanted wrinkles and restore natural contours.
Smile Lines – Smile lines or nasolabial folds run vertically from the bottom of the nose to the corners of the mouth. These "parenthesis" are a common area that many women seek help for. As we age, gravity and the loss of fat in the cheeks lead to increasing depth of these lines. Juvederm can fill these creases instantly.
Marionette Lines – Are the vertical creases that form at the bottom corners of the mouth. These lines can give a sagging or sad down-turned appearance. Juvederm can fill these creases instantly changing your whole appearance and expression, giving you an instantly more youthful appearance.
Lips and Vertical Lip Creases – Facial muscles above and around the lips can begin to appear over time from ordinary muscle movement.
Environmental factors, sunlight, smoking and stress can all alter the ways the vertical lips above the lip form. Dermal fillers such as Juvederm can instantly soften those lines in usually one treatment.
How Does Juvéderm® XC Work?
JUVÉDERM® XC adds volume to the skin, instantly rejuvenating the area. Young, healthy-looking skin contains an abundance of a naturally hydrating substance called hyaluronic acid (HA). But as you age, sunlight and other factors can reduce the amount of HA in your skin. The lack of HA causes your skin to lose structure and volume, creating unwanted facial wrinkles and folds – like those parentheses lines around your nose and mouth.
Using a dermal filler like JUVÉDERM® XC is a safe and effective way to replace the HA your skin has lost, bringing back its volume and smoothing away facial wrinkles and folds.
Using a fine needle, your healthcare professional eases JUVÉDERM® XC under the skin to fill the soft tissue of the dermis. This adds volume and diminishes the appearance of wrinkles and nasolabial folds instantly.
While there are a variety of hyaluronic acid fillers, JUVÉDERM® XC is uniquely formulated. A next generation HA filler, JUVÉDERM® XC uses a manufacturing process called HYLACROSS™ technology. HYLACROSS™ gives JUVÉDERM® XC its special smooth-gel structure that holds up over time. That's why JUVÉDERM® XC is the first smooth-consistency HA gel and the only HA filler that's FDA approved to last up to one year with only one treatment.